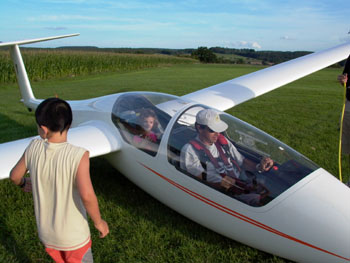 The season:

Our gliding season (so also the possibility of offering guestflights starts by late April and finishes by early October. Outside of the season our unpaved runway is generally unusable!
Weather:
Since our sport depends on the weather-conditions, it is better to choose a day without rain or strong and gusty wind. For information on weather conditions and glider availability please contact us:
on Saturday or Sundays by phone

2363 8117

or

621 455 380

(during saeson)

other days and out of season via email

:

This email address is being protected from spambots. You need JavaScript enabled to view it.
No prior formality is necessary;;
Guesflights can be done with or without a presale-ticket or gift-ticket. Just visit us at the field of Useldange on Sunday during the season..
Important remark: In accordance with the regulations of the Direction de l'Aviation Civile, the presentation of an identity document before the start of the flight is mandatory.
Maximum 1 passanger per flight (Double-seaters) / Kids can particiipate.
If the passenger is taller than 195 cm or heavier than 105 kg, please contact the CLVV to agree on practical arrangements before booking the flight. from a height of 1.20m.
The day of your guestflight:
Our activities start around 11am and end around 7pm. The guestflights can be done at any time of the day, but still allow 30 to 60 minutes of possible waiting in case the glider is not immediately available.

And if that appeals you ...

.

During your visit you can also inquire about the possibility of exercising this exciting sport yourself. Our members will be happy to explain the progress of the glider pilot training. You can find basic information also on this website (Flight school)


We look forward to seeing you soon on the Useldange airfield.