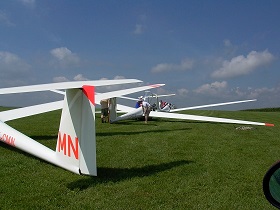 The Luxembourg Circle of Gliding (CLVV) has been practicing the sport of gliding for more than 50 years  in Luxembourg and its surroundings.
The club is based at the Useldange aerodrome and has around 40 active pilots. It owns several gliders and powered gliders which are available to his members for training as a leisure sport and / or competition and for visitors to share this passion by offering guestflights.
All forms of gliding are practiced in Useldange, pure gliding flight, powered glider and touring motor gliders. The takeoffs are done by winch, self-launch and by airtow.
All interested in this fascinating aerial sport are welcome to visit us on our site in Useldange, either to learn about our activities or to experience this fascinating sport through a guestflight.
Nature and advanced technology
Gliding is a sport in harmony with nature: Thirty seconds of fuel for a winch launch, then, with help of natures own power source, the thermals (rising warm air masses) are used to climb to considerable heights, without the use of an engine, without pollution and noise.
Onboard, sophisticated instruments , together with the elegant and efficient designes of modern gliders, constructed from modern materials like carbon-fibers, has made gliding a truly high-tech sport.
While some glider pilots enjoy freedom, aesthetic pleasure and the joy of mastering their machines, others focus on their performance in competitions. These competitions challenge the ability of pilots and co-pilots (in the case of two-seater machines) to recognize and use the aerological conditions as well as their flying and navigation qualities. Finally, there is also the practice of gliding aerobatics.
The "art" of gliding means mainly to pass through air masses with climbing speeds that are higher than the glider's own rate od descent and gaining potential energy (without losing kinetic energy). As ascending air masses, or thermals are generally very narrow, the pilots must describe circles inside to exploit them to the maximum. The term often used is "spiral", although the trajectory described by the glider in an ascendancy is helical.
Read more: The gliding sport
A multicultural association
The Cercle Luxembourgeois de Vol à Voile CLVV is a truly international flying club, with members from all over Europe, Luxembourg, Germany, Belgium, France, Holland, Norway etc. The common denominator, is the shared passion for gliding !
Communication among this small European community is excellent. Many members are multilingual or speak "Euromix", the universal language originating from the Useldange Aerodrome.
CLVV is a member of the Federation Aeronautique Luxembourgeoise, the Luxembourg association of all flying and airial sports clubs.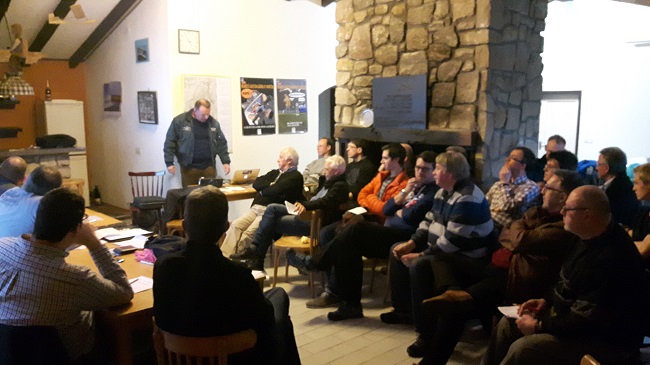 In addition to CLVV's own fleet of aircraft, several member-owned gliders and motorgliders are based at Useldange.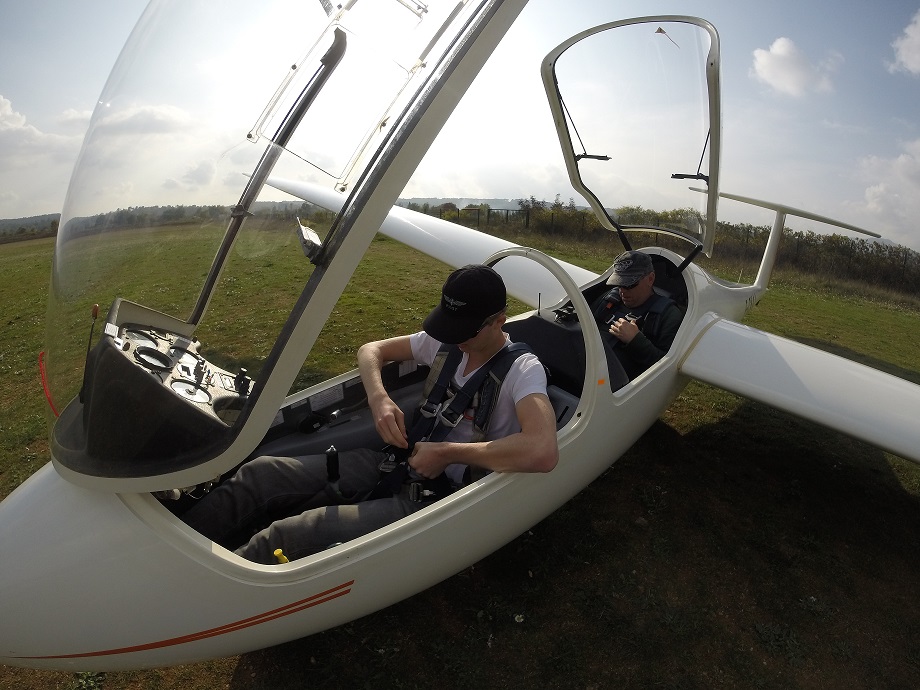 The instructors are licensed EASA 1167/2011 by the DAC (Directorate of Civil Aviation, Ministry of Sustainable Development and Infrastructure).
Training is not delegated to a single instructor per student, but is rotated by all gliding instructors. This practice offers the student a formation marked by an accentuated diversity. The charge of the instructor is regulated by a separate list which will be published at the beginning of the season.
Training is organized according to this list ..
Read more: CLVV Instructors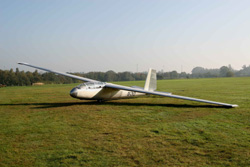 On March 9th, 1958, the statutes of the Cercle Luxembourgeois de Vol à Voile are signed by 35 gliding enthusiasts.
At first, the new club has neither land nor flying equipment, but following the dissolution of the gliding section of the L.A.S.E.L. (the League of Luxembourg Student Sports Associations), the CLVV recovers the flying material of this section and can continue to exercise its sports activities on the "airfield" in Reichelange.
Read more: CLVV History